Servo Motor and Feedback Test Equipment Catalog
Servo motors are finding their way into more industrial applications every day. To function properly, permanent magnet brushless motors depend on position feedback devices such as Hall Effect transducers, resolvers, incremental encoders, and serial encoders which require precise alignment. Mitchell Electronics, Inc. products are designed to help you meet the maintenance challenges presented by these modern motors and feedback devices.
Our test equipment products and accessories are designed to support a large variety of motor and feedback manufacturers in a wide range of maintenance applications, from motor repair shops to plant maintenance. The products are modular so that you can select the items that you currently need for your specific situation and easily expand your capabilities as your requirements change.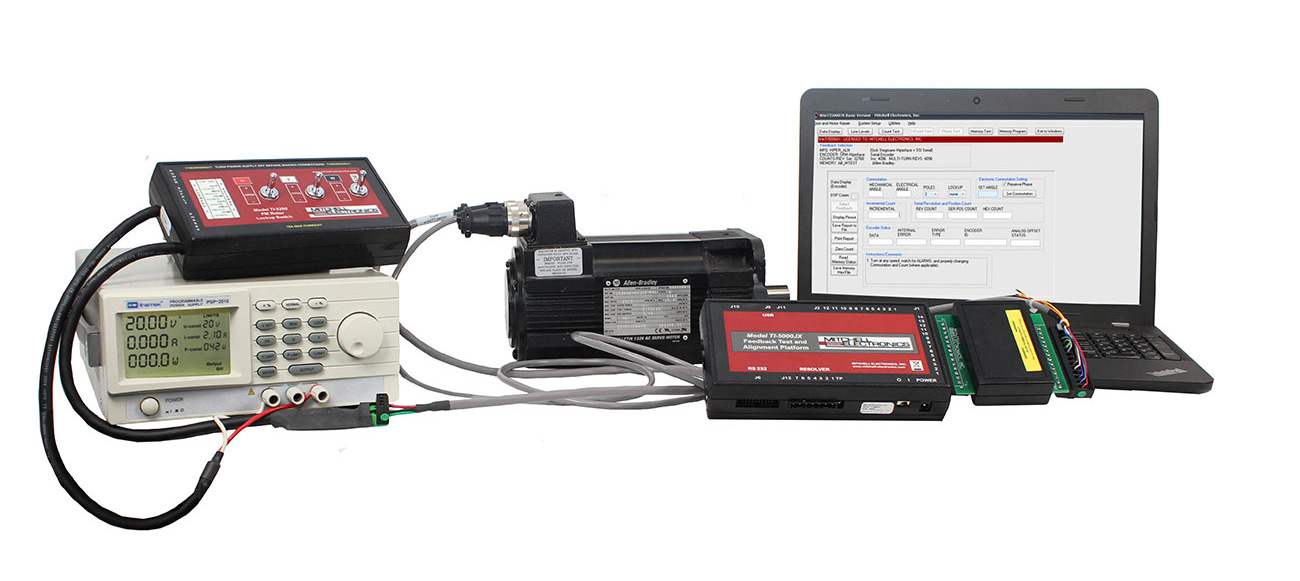 Feedback and Motor Testers
1. Select the tester or testers you need for your specific requirements.
TI-5000JX
The TI-5000JX is the universal tester for the motor repair shop. It enables the servo technician to test feedback devices, check feedback alignment, and set feedback alignment. The TI-5000JX uses your PC as the operator interface, and provides a large screen full of important information.
The TI-5000JX includes the Athena PC interface software, RS232 and USB cables, wall mount power supply, and user manual.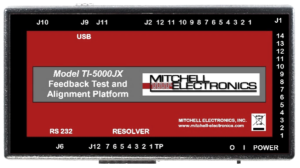 TI-5260-PSP
The TI-5260-PSP is a motor lockup system that helps reduce error while documenting motor properties and aligning feedbacks. The universal 4 pin power connector and 3-position toggle switches for UVW motor phases make sure you don't mix up your power leads resulting in costly mistakes. It includes the TI-5260 rotor lock switch and an Instek PSP2010.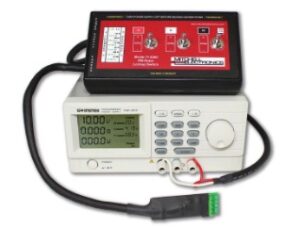 TI-3000JX
The TI-3000JX run test platform gives repair shops one system on which they can run permanent magnet brushless servo motors with a wide variety of feedback devices. This reduces the need to purchase a large number of manufacturer specific drives in order to run test servo motors after repair.
The TI-3000JX-B30 is a bundled package which includes the TI-3000JX, the AMC B30A40 amplifier (drive), required cables, and speed potentiometer.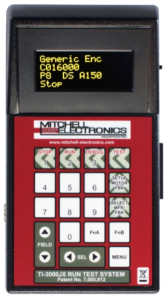 TESTER SOFTWARE MODULES
2. Select the proper software module for each motor/encoder you repair.
The TI-5000JX and TI-3000JX testers support many different types and brands of feedback devices. Each one of these support options is called a software module. The TI-5000JX has three categories of software modules; feedback test and alignment modules, memory test modules, and memory programming modules. The TI-3000JX has one category called run test modules.
Here is a list of supported feedback types:
All software modules are unlocked for the tester in use when it is checked out by the user. The JX system currently has support for motors from over 180 different manufacturers. Here is a list of some popular brands to get you started.
Allen Bradley
Motors: Allen Bradley 1326AB, MP, VP, 8720 spindle
Encoders: SICK Stegmann SKS/SKM, SRS/SRM, EKS/EKM
B&R
Motors: B+R 8LS and 8MS
Encoders: Heidenhain EQI1317, EQI1327, EQI1329, ECN1313, EQN1325
Berger Lahr
Motors: Berger Lahr SER
Encoders: SICK Stegmann Hiperface
BISS
Encoders: Hengstler AD36-0019, AD36-1219
Bosch/Rexroth/Indramat
Motors: SF, SR, MKD, MDD, MHD, MKE, MSK, MAD, KSD(KSM), MSM
Encoders: Indramat/Heidenhain (not EnDat) ECN212, EQN224, ECN413, EQN413, EQN425, ECN1313, & EQN1325, Indramat/Stegmann (not Hiperface) servo and spindle motor encoders, and MKD/MKE resolver boards
Elau
Motors: Elau (Schneider) SH and SM
Encoders: SICK Stegmann SKS/SKM, SRS/SRM
Fagor
Motors: Fagor FXM, FKM
Encoders: SICK Stegmann SNS, SRS/SRM
Fanuc
Encoders: All known models except Alpha 16,000i and Alpha/Beta iS "R" robot encoders
Heidenhain
Encoders: EnDat ECI1118, EQI1128, EQI1130, ECI1317, ECI1319, EQI1325, EQI1327, EQI1329, EQI1331, ECN1123, ECN1313, EQN1325, EQN1335, EQN1337, ECN125, and SSI EQN1325
Hengstler
Encoders: SSI 12 bit gray code Unico 319-663
Incremental
Feedback: All incremental and commutation pulse outputs
Kawasaki
Encoders: H20/M21 and HE-02
MFE
Encoders: MFE0011, MFE0017, MFE0020, MFE2500 serial, MFE0023
Mitsubishi
Encoders: OSA/OSE253, OSA/OSE105, OSA/OSE105S2A,
OSA/OSE104, OSA/OBA166, OSA/OBA18, OSA/OBA17, OAH14B, OSA14, OBA13, OBE12, OHE4096, SBK2-2500, OBA17 Incremental
Panasonic
Motors: Panasonic
Encoders: MFE0017, MFE0020, MFE0023, MFE2500P8Nx
Parallel Absolute
Encoders: Up to 10 bit parallel absolute
Resolver
Resolvers: Nearly all resolvers
Sanyo Denki/Sumtak
Encoders: Sanyo Denki E030077583, E07B111335, E07B151103, E07B151306, E10B171103, R11G4113A and R11ABS
Sumtak REC/REM 2048
Schneider Electric
Motors: BMH, BSH
Encoders: SICK Stegmann SKS/SKM36, SEK/SEL37
SEW Eurodrive
Motors: SEW Eurodrive CMP, DSF, CFM, and others
Encoders: SICK Stegmann SKS/SKM, SRS/SRM
SICK Stegmann
Encoders: Hiperface – SCS/SCM, SKS/SKM36, SNS, SRS/SRM50, SEL/ SEK37, SEL/SEK52. SSI – AG100 and AG661
Hiperface DSL – EKS/EKM36-18, EKS/EKM36-20, EFS/EFM50-21, EFS/EFM50-23
Tamagawa
Encoders: TS5643N110, TS5645, TS5647, TS5648N102, TS5667, TS5668N26, TS5669N221, TS5778N85, TS5778N157, TS5781N13
Yaskawa
Encoders: Yaskawa SIGMA I (8,192, 16,384, and 32,768 counts/rev with C commutation output, and 12 & 15 bit Absolute) Supports test and alignment of most Yaskawa serial encoders.
TESTER HARDWARE ACCESSORIES
3. Select the required hardware modules required for some non-standard encoder types.
Modern feedback devices use a wide variety of electrical interfaces. The test equipment is designed to accommodate the most common signal types. To accommodate the less common types of electrical interfaces, hardware modules are employed to adapt the feedback device to the tester in conjunction with a test cable. This modularity allows your original tester investment to grow as your requirements grow and not become immediately obsolete with each new requirement.
TI-5101
The TI-5101 Sin/Cos Commutation with 1Vp-p Hardware Adapter Module interfaces 1Vp-p sine wave encoder signals to the tester products. It also allows for reading of the commutation angle generated by Heidenhain ERN1387 C&D channels used on Siemens motors. The low level 1Vp-p signals are amplified by a gain of 3.8V using differential amplifiers which help reduce noise problems during a run test.
TI-5103
The TI-5103 Yaskawa Hardware Adapter Module decodes the U, V, and W commutation signals and the Z index reference pulse from the C/C* channels of Yaskawa C-channel encoders. It also provides power cycling for testing the update count for Yaskawa 12 and 15 bit ABS encoders using the
TI-5000Y_ALN software module.
TI-5104
The TI-5104 +8VDC with 1Vp-p Amplifier Hardware Adapter Module provides 8VDC power to Indramat Digital, Stegmann Hiperface, and other types of encoders which require a voltage higher than the standard 5VDC (and for which 8 VDC will suffice). It also amplifies the 1Vp-p A and B channel signals by a gain of 3.8V using differential amplifiers. This helps reduce noise problems during a run test.
TI-5105
The TI-5105 ±15VDC with Tach Input Hardware Adapter Module provides a convenient interface for Hall Effect commutation, DC tachometer, and incremental encoder position feedback. Commonly used with Indramat MAC motors and the TI-5042 cable. Also supported with other manufactures such as the Bosch SD/SE series motors using the TI-5719 test cable. The module will display the DC tach voltage on the TI-3000JX screen if running from the Generic Pulse selection.
TI-5106
The TI-5106 +12VDC SICK Hiperface DSL Hardware Adapter Module is designed to support all Hiperface DSL encoders including these common models: EKS/EKM36 and EFS/EFM50 models with 18, 21, and 23 bit count resolutions. It provides support for 2-wire Hiperface DSL protocol with ability to perform a Count Test, display electrical angles, set the alignment electronically, receive error codes, read/write memory data from supported motor manufactures, and run motors using the TI-3000JX. It requires a compatible test cable dependent on the specific motor make and model.
TEST CABLES
4. Select feedback and power test cables to interface with many different manufacture options.
Motors and feedback devices utilize a seemingly unending array of connections and pin assignments. Most repair shops and maintenance groups need to focus their time and resources on keeping their equipment running rather than researching cable pin assignments, locating vendors, and assembling test cables. For these busy people we provide a large and continually growing selection of test cables for the feedback and motor power connections.
All feedback cables are approximately 5 feet long, and all power cables are approximately 3 feet long.
The motor end of the cable is equipped with a connector that mates with the motor feedback or power connector. It is important to make sure that the cable in use is correct for both the motor and feedback device. For instance, the same kind of encoder used on two different manufacturers' motors will seldom use the same cable. Likewise, the same manufacturer's motors may require different feedback cables depending on the feedback device in use.
The tester end of the cable will normally be some combination of 14, 12, 7, 6, or 4 pin contact terminal blocks depending on the type of power and feedback setup that the motor employs. In addition, there may be loose conductors, typically used as battery or reset lines, which are tied back on the cable for quick access. The tester is not concerned directly with these lines but they are made available for the technician to perform additional test procedures.
The following table describes the general format for naming cables.
| | | | | |
| --- | --- | --- | --- | --- |
| Part Number | Motor Type | Feedback Type | Number of Pins | Connection Type |
| TI-5031 | Siemens | Heidenhain EnDat | 17 pin | M23 |
Feedback test cable product numbers are TI-5XXX and are compatible with the TI-3000JX and TI-5000JX.
Motor power test cable product numbers are TI-3XXX. These cables are used to connect the motor armature and ground leads to the TI-3000JX amplifier or to the TI-5260 lockup box.
Proper test cables for motor feedback and power connections are crucial for accurate servomotor testing. Please contact our support team for help with sourcing the correct test cables for your needs.
Generic Flying Lead Feedback and Power
 The variety of servomotor connections can be overwhelming, especially if you plan to work on different motor brands. It's also hard to plan on what type of motors you might have coming in and prepare with the proper test cables. The generic flying lead test cables offer great versatility for various connections, at the expense of being less accurate than the motor specific test cables. There are many different size socket options for both feedback and power connections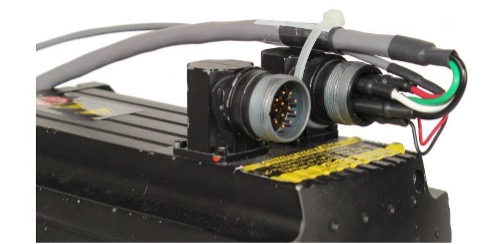 This catalog now includes over 300 different test cables to choose from. Mitchell Electronics Inc. can also custom build cables in some cases.
Customers can send their full motor model number, encoder model number, and feedback connector type to support@mitchell-electronics.com and a member of the Mitchell Electronics Inc. product support team will let them know if MEI has a pre-built cable or if we can build one.
This is a list of cables and accessories that we sell. It is sorted by the manufacturer of servo motor or feedback device. Depending on the manufacturer and type of the material you are repairing, consider cables and accessories from that section.