JX New Features
SICK Hiperface DSL
SICK Hiperface DSL encoders are now a popular feedback type used on new motor models from Allen Bradley VP, Kollmorgen AKM, Beckhoff AM8, Parker SME, and others. The new TI-5106 hardware adapter module is designed to support all Hiperface DSL encoders including the common EKS/EKM36 and EFS/EFM50 models with 18, 21, and 23-bit count resolutions. This module, along with the proper test cable and software selection for your motor type, supports the 2-wire Hiperface DSL protocol including the ability to perform a Count Test, display electrical angles, set alignment electronically, receive error codes, read and write memory data from supported manufacturers, and run-test motors using the TI-3000JX. Hiperface DSL is considered a premier feature on the JX system.
If you are interested please contact sales@mitchell-electronics.com.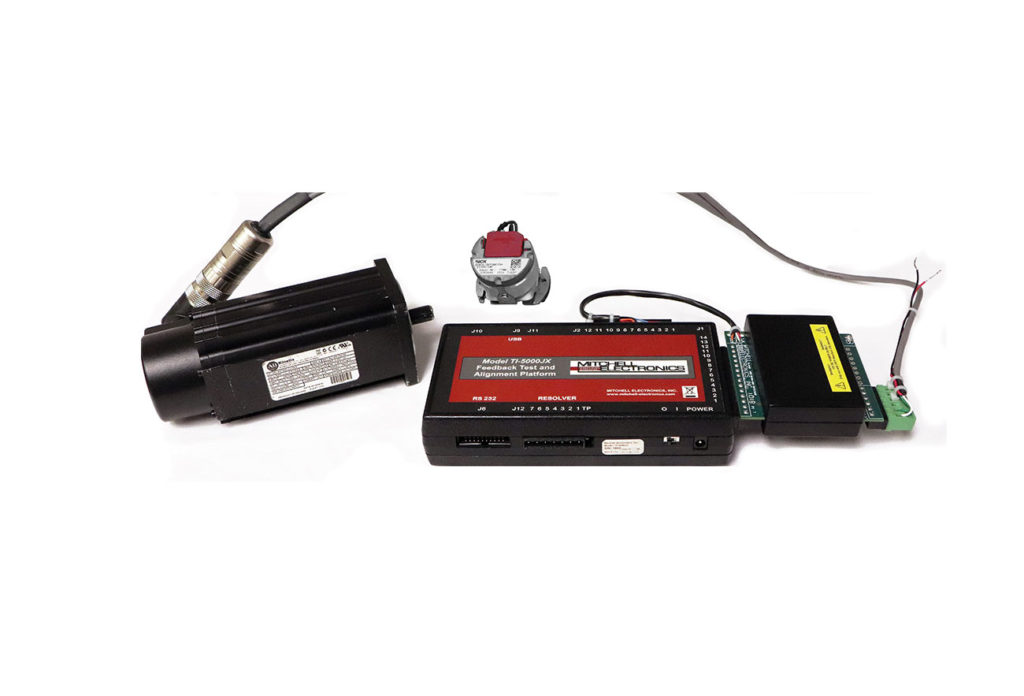 FANUC High Speed
The Fanuc "Alpha i" serial protocol includes a High Speed mode, but is also reverse compatible with the legacy "Alpha" protocol that we have supported for a number of years. However, some new Fanuc encoders have feedback connections that use only 2 wires for the serial transmission, and these are only compatible with the High Speed protocol. We now have full support of the High Speed protocol for both TI-5000JX and TI-3000JX systems! Some of the previously unsupported High Speed only encoders include the Alpha Ai4000, Beta Ai1000, Alpha Ai32000, and Beta i encoders found on Beta iSR robot motors. Make sure you have the new TI-5750 Fanuc High Speed test cable to go along with your new software.
New Encoder Memory Support
The TI-5000JX includes two new Memory Tests. The SEW Memory Test and Programming supports all SEW motors using SICK Stegmann Hiperface serial encoders.
The Panasonic Memory Test supports Panasonic motors with MFE serial encoders. This test is also compatible with the identical Omron R88M-G and R88M-K series motors as well.


Rexroth MSK motors have become easier to align with the new commutation offset feature, allowing you to simply program a new encoder alignment into the encoder memory.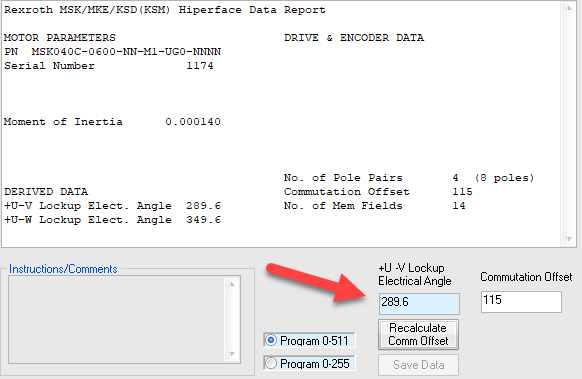 1Vp-p Line Levels Test for SICK Stegmann Hiperface, Heidenhain EnDat, and BiSS Serial Encoders
SICK Stegmann Hiperface, Heidenhain EnDat, and BiSS serial encoders have 1Vp-p sine wave incremental outputs in addition to their serial signals. This new test quickly reports if those signals are at the correct amplitude. This is especially helpful for two-piece inductive serial encoders because the mounting position of the encoder body relative to the encoder wheel determines these amplitudes. If the encoder is not set correctly, the amplitudes will be incorrect, and the drive will alarm. This test requires the TI-5101 module for Heidenhain and BiSS encoders, and the TI-5104 module for SICK Stegmann encoders.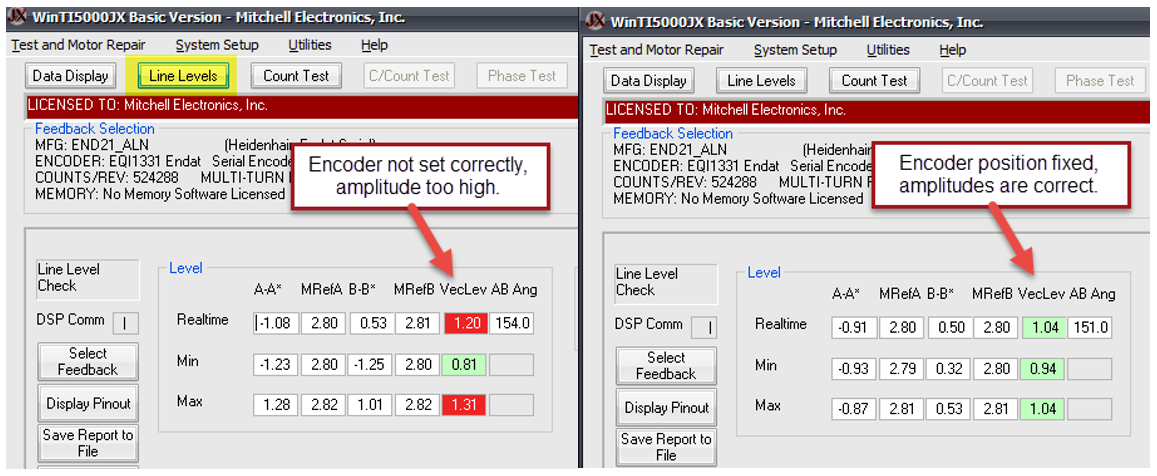 Resolver Excitation Phase Adjust
Every resolver requires a unique excitation frequency and voltage, and selecting the wrong settings can produce poor readings. This new JX feature helps you choose the best excitation frequency for your specific resolver by providing a plus or minus offset so that you can adjust your frequency up or down until the offset is in the green range, or close to zero degrees. This new feature is supported on both the TI-5000JX and TI-3000JX testers.

New Feedback Selections
The JX platform includes new serial encoder selections such as MFE0020, MFE2500, and several new Heidenhain EnDat encoders. The TI-3000JX also has the new ability to run from Heidenhain serial stream only, which supports running many previously unsupported motors. Additional feedback and run-test features are offered constantly through automatic updates.
Automatic Software Updates
X users are alerted of software updates automatically through an internet connection. The automatic update system simplifies the TI-5000JX and TI-3000JX update process and requires minimal user input, insuring you have access to the latest features at all times.
Instant Software Access
The MEI software credit platform empowers your servo motor repairs with instant access to software. Purchase credits in advance and use them to "checkout" the software per the Software License. Immediate access to all software options reduces your turnaround time and increases flexibility by providing service to hundreds of motor and encoder models. The credit platform averages out spending over time, reducing large and long-term purchasing commitments, while also minimizing cost by charging only by usage. It also streamlines your process by eliminating purchasing emergencies.